🚧
Don't mind our appearance; this case study is currently under construction.
🚧

Competitive Audit & Analysis
About CoffeeHouse
CoffeeHouse is an international coffee store chain with locations in New York, Chicago, San Francisco, Cleveland, London, Nantes, Reykjavik, and more. It aims to serve quality coffee with local flair. Their drinks range from $3 - $8. The shops are minimalist, clean-lined, and feature a variety of freshly brewed house blends from the world's major coffee regions. They offer both ready-to-drink and whole or ground beans by the pound. Their specialty drinks are made to order at their counter or on their app. For each of the cities they currently operate in, they have crafted an exclusive coffee-based beverage that can only be ordered in its city. This has inspired fans to seek out CoffeeHouse shops in other cities in an effort to try all of the exclusive creations.

CoffeeHouse has a counter where CoffeeHouse baristas make drinks to order; an ordering app which allows full customization, orders are made by CoffeeHouse baristas and ready for pick-up; and a selection of pastries and scones sourced locally from the cities they operate in, but made to CoffeeHouse specifications. The app is currently a simple black-and-white menu app. The company offers it only in English, and users have to re-enter their payment information, drink order, and specific store pickup location every time they order from it. The app also has no audio features and offers no integration with modern technology.
The company is looking to update its app.
Goals & Methods
My objective was to compare the in-app purchasing experience of 3 major competitors. I reviewed these aspects of each competitor, on their website or app: first impressions, features and accessibility, user flow and navigation, brand identity and tone, and descriptiveness.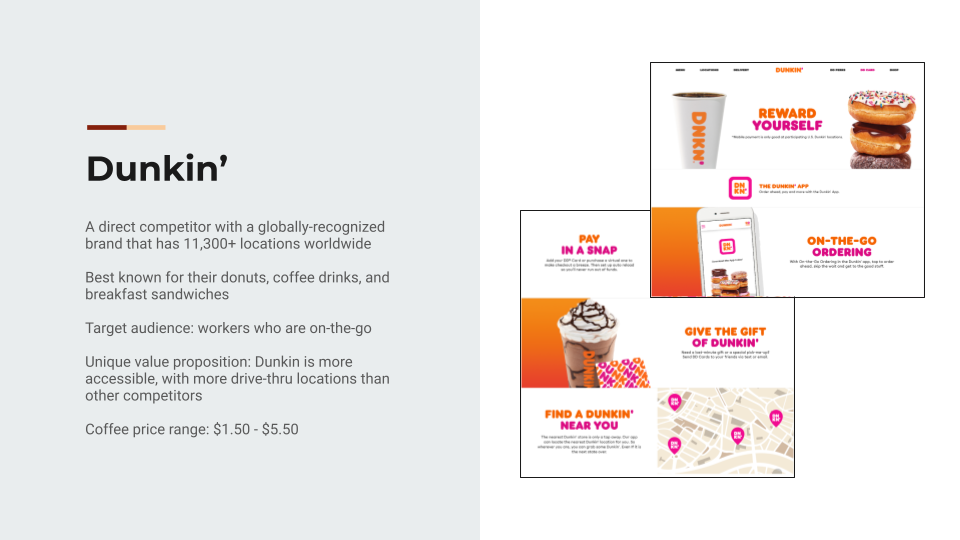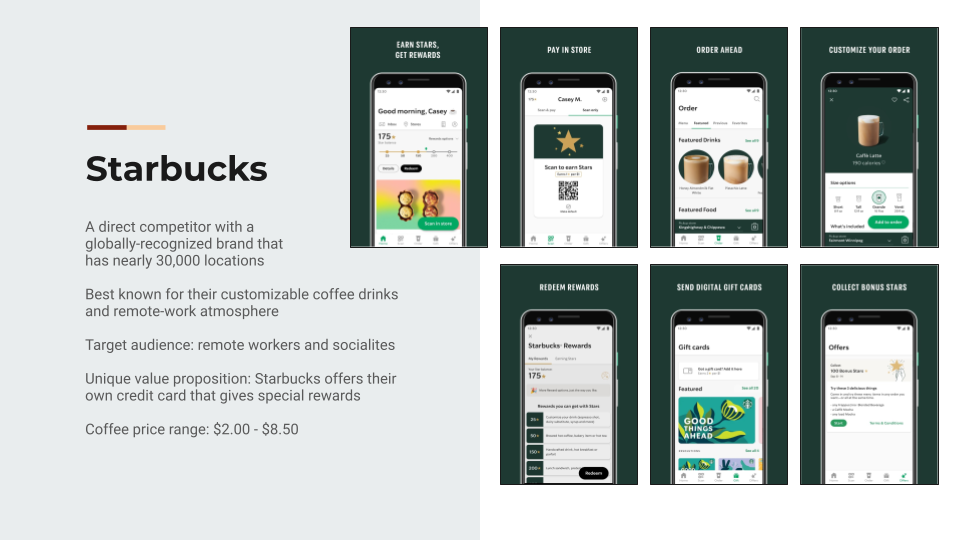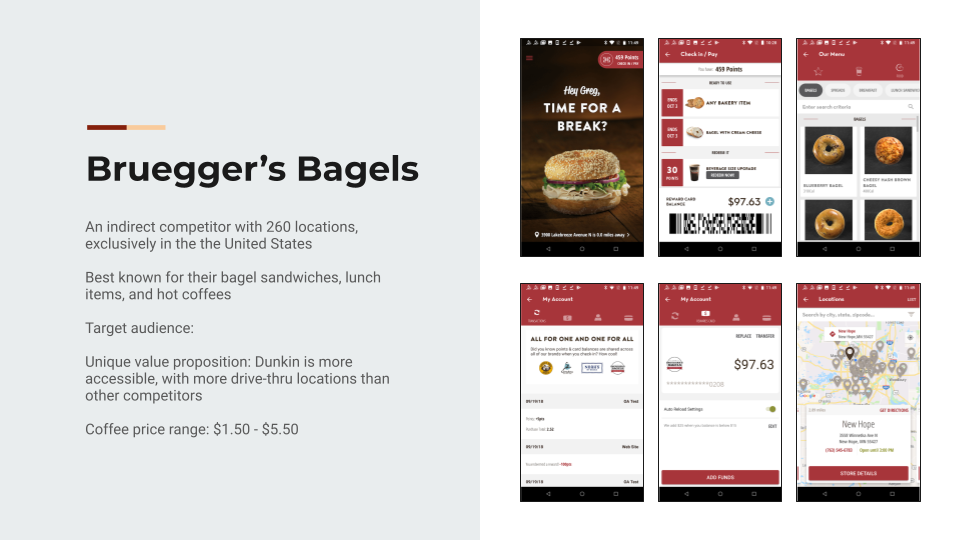 Personas
Problem Statements & Hypothesis Statements
Takeshi is an online student learning software development who needs a way to order food and reserve a workspace at CoffeeHouse because he will lose his spot if he gets up while the café is busy. If Takeshi uses the app to reserve a table and place orders, then he won't lose his seat when he gets up to grab his food or use the bathroom.

Kaley is a busy intern at a fast-paced design studio who needs a reliable way to place timely and accurate orders at CoffeeHouse because her team relies on her for their morning coffee before the first meeting of the day. If Kaley places her custom order in the app and sets a pickup time, then her items will be accurate and ready to go when she hops off the commuter train.